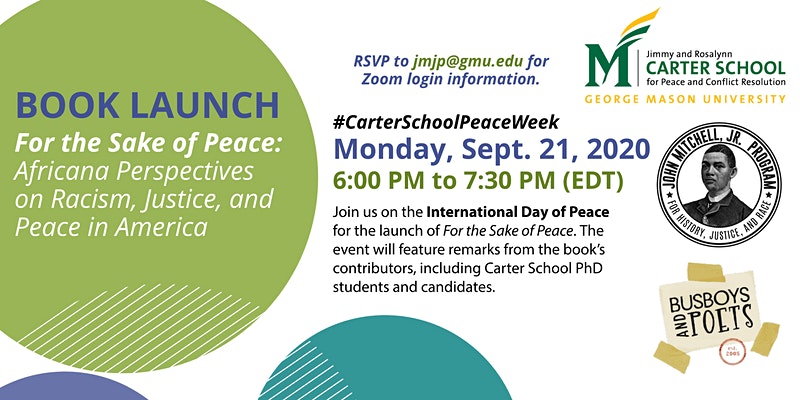 International Day of Peace – Book launch: For the Sake of Peace
Join the John Mitchell, Jr. Program for History, Justice, and Race on September 21st, the International Day of Peace, for the launch of For the Sake of Peace: Africana Perspectives on Racism, Justice, and Peace in America.
This event is being co-organized with the Jimmy and Rosalynn Carter School for Peace and Conflict Resolution (George Mason University) and Busboys and Poets.
Published by Rowman & Littlefield in June 2020 and edited by Carter School assistant professor Dr. Charles L. Chavis, Jr., and Carter School PhD alum Dr. Sixte Vigny Nimuraba, For the Sake of Peace examines racism and injustice in the United States through the eyes of those of African descent. This volume centers around an understanding of peace that is concerned with justice and racial equality. Highlighting the prevailing impact of anti-Black racism and injustice, authors offer prescriptive and descriptive insight that will aid in understanding and overcoming these historical and contemporary obstacles to peace.
The event will feature a discussion moderated by Andy Shallal (CEO & Founder, Busboys and Poets) and focus on the contributions of both established and rising scholars at the intersection of race, peace, and justice, including Carter School students.
Introductory remarks will be made by Dr. Charles L. Chavis, Jr., and Dr. Sixte Vigny Nimuraba, who are the editors of the book, and by Dhara Snowden, Senior Commissioning Editor, Politics, International Relations & Security Studies at the Rowman & Littlefield Publishing Group.
Remarks will be made by the following contributors to the book:
Rev. Canon Nontombi Naomi Tutu – Associate Rector, All Saints, Beverly Hills
Dr. Raymond Winbush – Research Professor, Morgan State University; Director, Institute for Urban Research
Ajanet Rountree – PhD student, Carter School; Program Coordinator, Mitchell Program
Rev. Robert Hoggard – Adjunct Professor of Religious Studies at Villa Maria College and Development Associate at Rochester Regional Health Foundations
Oluwagbemiga Dasylva – PhD candidate, Carter School; Director of Research, the Mitchell Program
Read all their bios here.
This event is being organized as part of Carter School Peace Week (September 21 to September 25, 2020). The event is also part of the A.C.T.O.R. (A Continuing Talk on Race) series at Busboys and Poets.
About the International Day of Peace
Each year on September 21st, the United Nations invites the global community to recognize 24 hours of nonviolence and to commit to creating a more peaceful and just world for all. This year's theme is "Shaping Peace Together." Learn more about the International Day of Peace.