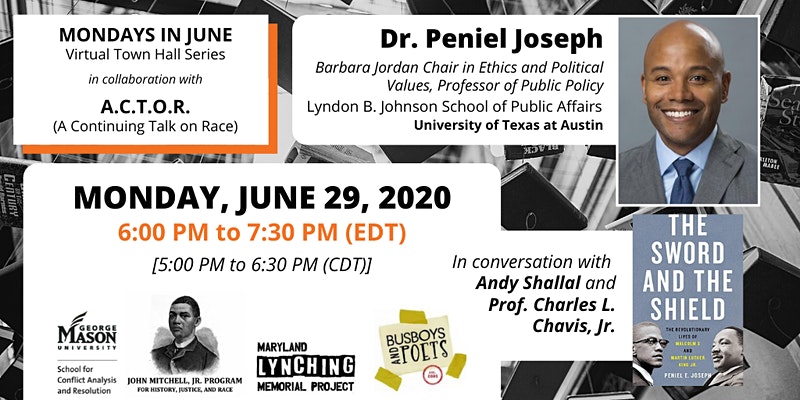 Mondays in June: Dr. Peniel Joseph
In conversation with Andy Shallal (CEO & Founder, Busboys and Poets) and Prof. Charles L. Chavis, Jr. (George Mason University)
On Monday evenings throughout June 2020, join the John Mitchell, Jr. Program for History, Justice, and Race at George Mason University, Busboys and Poets, and the Maryland Lynching Memorial Project for virtual town hall discussions with authors, activists, and academics on pressing issues at the intersection of race, peace, and justice.
The final virtual town hall on June 29th will feature a discussion with Dr. Peniel Joseph, who is the Barbara Jordan Chair in Ethics and Political Values and founding director of the Center for the Study of Race and Democracy at the Lyndon B. Johnson School of Public Affairs at the University of Texas at Austin.
Dr. Joseph's latest book is The Sword and the Shield: The Revolutionary Lives of Malcolm X and Martin Luther King Jr.
This event is part of the A.C.T.O.R. (A Continuing Talk on Race) series at Busboys and Poets. After you RSVP for this FREE event, you will receive an email for instructions on how to join via Zoom.