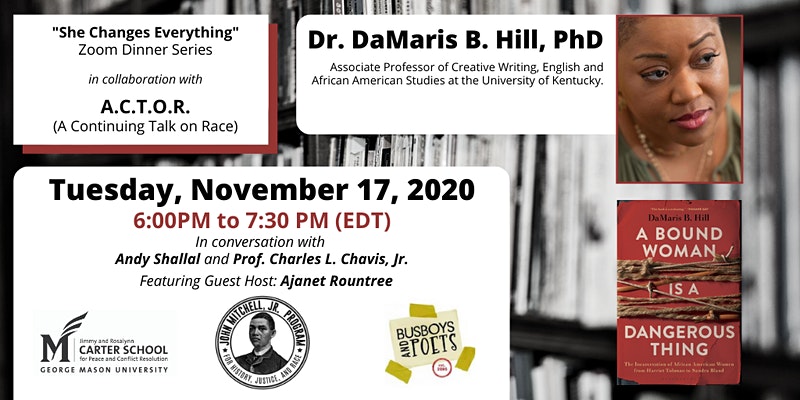 "She Changes Everything": A Conversation with Dr. DaMaris Hill
In conversation with Ajanet Rountree, Andy Shallal, and Dr. Charles L. Chavis, Jr.
During this virtual event celebrated writer, professor, and teacher Dr. DaMaris B. Hill will bear witness for Black Women and women of color who, while burdened by sexism, racism, and injustice up continue to risk their lives for the sake of our democracy.
Dr. Hill is an Associate Professor of Creative writing, English and African American Studies at the University of Kentucky. Similar to her creative process, Hill's scholarly research is interdisciplinary and examines the intersections between artistic criticisms, cultural studies, and digital humanities.
DaMaris B. Hill is the author of A Bound Woman Is a Dangerous Thing: The Incarceration of African American Women from Harriet Tubman to Sandra Bland (2020 NAACP Image Award nominee for Outstanding Literary Work in Poetry), and The Fluid Boundaries of Suffrage and Jim Crow: Staking Claims in the American Heartland.
Want to support a social justice-minded business and its employees? Order your favorite meal and beverage from Busboys and Poets, set your table, and tune in for an engaging discussion.
Want to support programs that seek to realize racial justice through narrative change? Consider making a donation to support the work of the John Mitchell, Jr. Program, which includes supporting students who are committed to racial justice.
Source: Eventbrite link