York was an enslaved man that was crucial to the Lewis and Clark expedition. He was born into slavery by the Clark family in Caroline County, Virginia, and then assigned to William Clark at a very young age. In his 30's he was selected to participate in Lewis and Clark's expedition to the Pacific Ocean.
York proved crucial to the expedition's success. He became a skilled hunter, successfully negotiated with Native Americans, and cared for ill soldiers. He was also a naturalist and helped describe new plants and animals. However, York has never been formally acknowledged for his contributions to natural history. No plants or animals bear his name like those of Clark and Lewis, and only recently have scholars begun to connect York's contributions to the overall successes of the expedition. Here, we hope to pay homage to York's contributions to our understanding of natural history, particularly in the Western United States.
Weather, July 1806
12th wisdom river is high but falling. Prickly pears in blume
14th Saw a Tobaco worm shown me by York
15th Struck the river Rochejhone 120 yds wide water falling a little
16th Saw the wild indigo & common sunflower
…

—William Clark's journal
It is important to point out that the historical record does not include any account from York himself—what he may have thought or felt from his unique position on the expedition. Neither does the world have the voices from any of his descendants. Instead, we have only written reflections about him coming from his enslaver, and, in some cases, stories about him recounted hearsay. In at least one instance, the journal of William Clark describes how Native Americans were delighted and/or terrified by his dark complexion, having never seen a Black man before. We should be careful to recognize that such a story is doubly-imbued with bias: this objectification of York is from the gaze of a Native American tribe as described from the gaze of a white enslaver.
---
The Human Story
York was born into slavery in Caroline County, Virginia. His parents, "Old York" and Rose were enslaved by William Clark's father, John Clark III. Indeed, York's date of birth is not known, however, scholars believe that he was born around 1770— approximately the same year as William Clark, who had known York his entire life. It is thought that York and William Clark were close in age and therefore knew each other their entire lives. William would refer to York as his "servant" in his writings, indicating that York was his "body servant" — a term referring to a younger enslaved person that was assigned to be a companion to an equally young owner. York likely lived within the Clark's house and spent much of his time with William. This life-long acquaintance is likely why Clark selected York to accompany them on their expedition.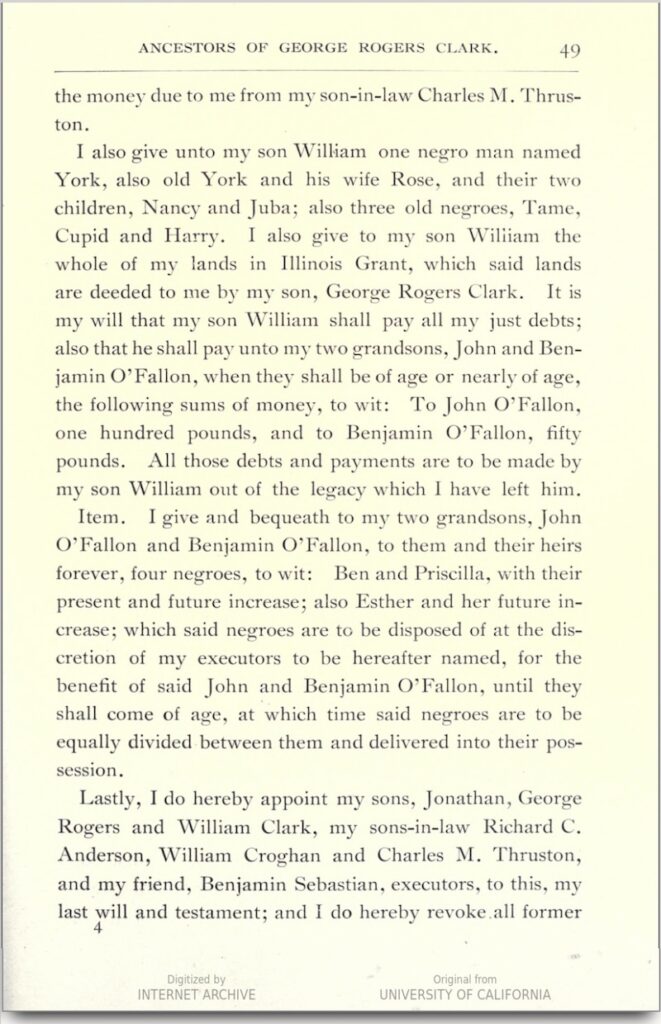 York's contributions to the expedition did not exclude him from experiencing one of the most soul-crushing portions of enslavement, the separation from loved ones—in this case, his wife. Little is known regarding York's familial relationship; however, we know that York did have a wife who was also enslaved. York and his wife were wed shortly before the expedition in 1803; however, York was forced to leave her behind in Louisville, Kentucky. On November 9, 1808, Clark referenced York's wife following the expedition, after York sought his freedom, in a letter to his brother Jonathan Clark stating that he would:
send York… and promit him to stay a fiew weeks with his wife. He wishes to stay there altogether and hire himself which I have refused. He prefers being sold to return[ing] here. He is serviceable to me at this place, and I am determined not to sell him, to gratify him, ..if any attempt is made by York to run off, or refuse to provorm his duty as a slave, I wish him sent to New Orleans and sold, or hired out to some severe master until he thinks better of such conduct."

—William Clark, 18081
1 James J. Holmberg, "I Wish You to See and Know All: The Recently Discovered Letters of William Clark to Jonathan Clark," We Proceeded On 18, no. 4 (November 1992): 7-8.
Cover montage includes a photo of a statue of York erected in Louisville, KY. ©felipeowen/123RF.com
Cite this page › Chicago Style
Chavis, Charles, Jr. and Travis Gallo. "York: The unacknowledged assistant to the Lewis and Clark Expedition." The Enslaved Naturalist. John Mitchell, Jr. Program for History, Justice, & Race: Digital Museum. November 1, 2021. https://jmjp.gmu.edu/the-enslaved-naturalist/york